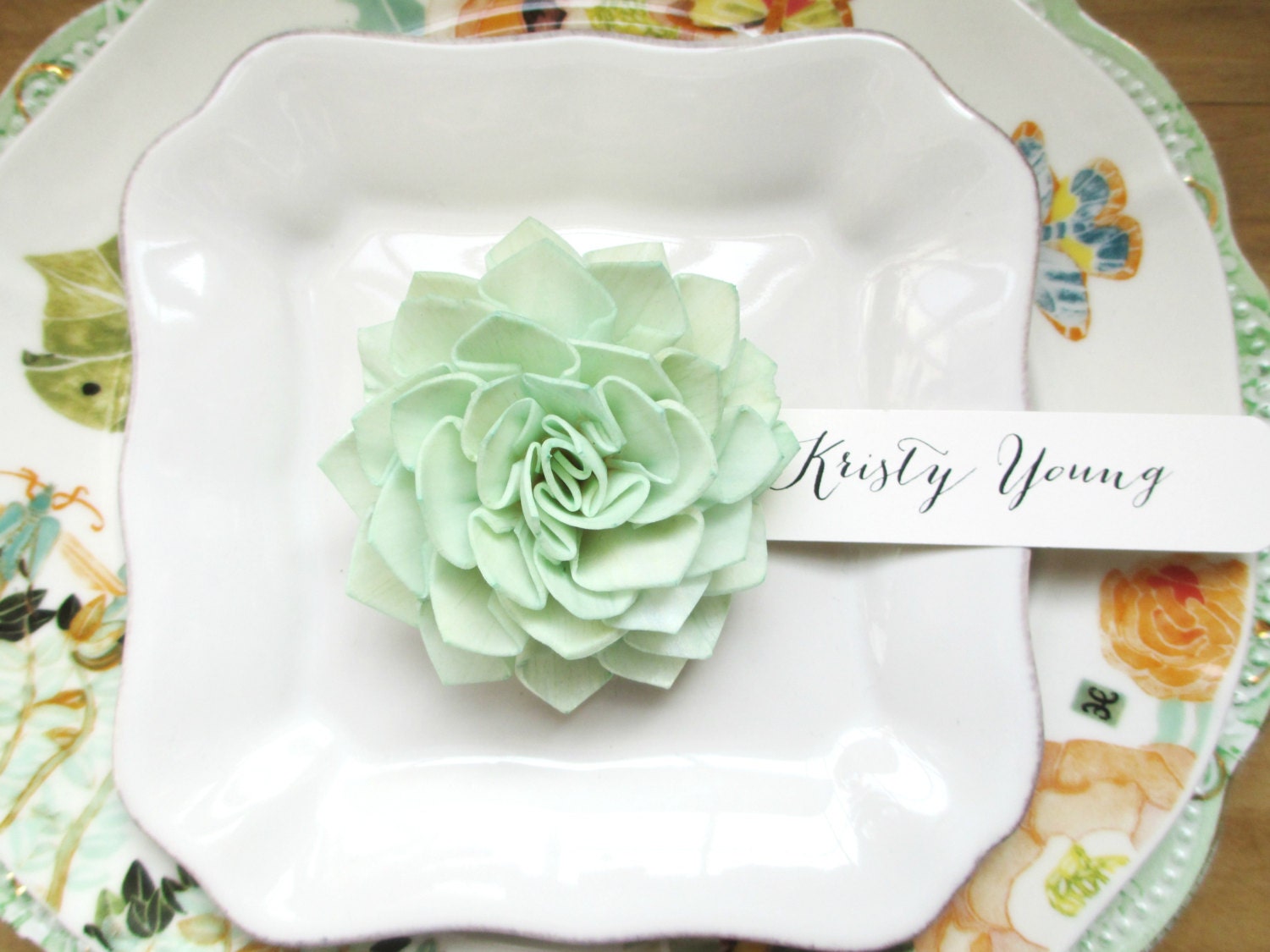 You want your well-planned wedding to flow easily, right? We do, too! You are about to learn everything you need to know to help your guests find their table, their seat and start the reception off without unnecessary logistical hiccups. And we have a few creative tips to pass along, too...
Escort cards and place cards: did you know that they are actually two different things with two different uses? Many people reference them interchangeably, though. Don't make this rookie wedding planning mistake! Escort cards "escort" your guests to their table, while place cards "place" your guests at their actual seat. Escort cards are usually a necessity if your guest count is 30+. Place cards alone can be used for more intimate weddings, and be used in combination with escort cards at larger weddings.
Escort Cards
are usually found in an area leading into the reception space, where guests find their names in alphabetical order to discover which table will be theirs for the evening. We don't recommend putting escort cards out at the beginning of the cocktail hour if possible. Many guests will feel the need to pick their card up right away, and then proceed to leave it in the bathroom or on the bar while ordering their glass of Chardonnay. If there is a space for the escort card table right before entering the reception, it is best placed there. Otherwise, be sure that someone has a seating chart to assist those guests who misplace or lose their card during cocktail hour.
They are an essential for almost every wedding reception, so here are a few ways to get creative with them.
1. Make it edible or a wedding favor.
Not all escort cards have to be a "card." They can be items, which your guests can take home as a keepsake. Some of the most popular escort card favors are soda bottles, jars of candy, cake pops, a signature drink, or picture frames. Having an item that is both a wedding favor and an escort card can reduce your overall budget (since you're getting two in one!) and add uniqueness to your wedding.
2. Ditch the card and do one big chart.
Trying to save some money to put toward other parts of the wedding? Sometimes big charts are just as beautiful and effective as escort cards. You can either do a list of names with numbers or a diagram of each table with guest names. Although not as traditional as cards, this is a great idea to break the norm and cut costs.
3. Vary the way you display the cards.
If you want to go with the traditional escort card, you can vary the way you display the cards to add some ingenuity to your reception. Rather then displaying the cards on a table, you can attach the cards to a ribbon tapestry, put them inside of a picture frame, or connect them to decorated boards. You can even spice up your table decorations by putting them on decorations to match your theme; colored stones, wooden blocks, or a bed of flowers.
4. Go square (or octagon, or round, or rectangle)!
Changing the shape, size, color, or adding a holder adds spark to an escort card. By using a seashell, an elephant, or flower to hold the card, you can tie in your theme while making the cards stand out. You can put the cards in envelopes, make them into little booklets, or form them into chairs to add dimension to your card table.